If you are a recent pass out from 10th class, the very first and obvious question you would encounter is — Which stream have you decided to choose for further studies? And the options that you will be presented with would be Science and Commerce stream.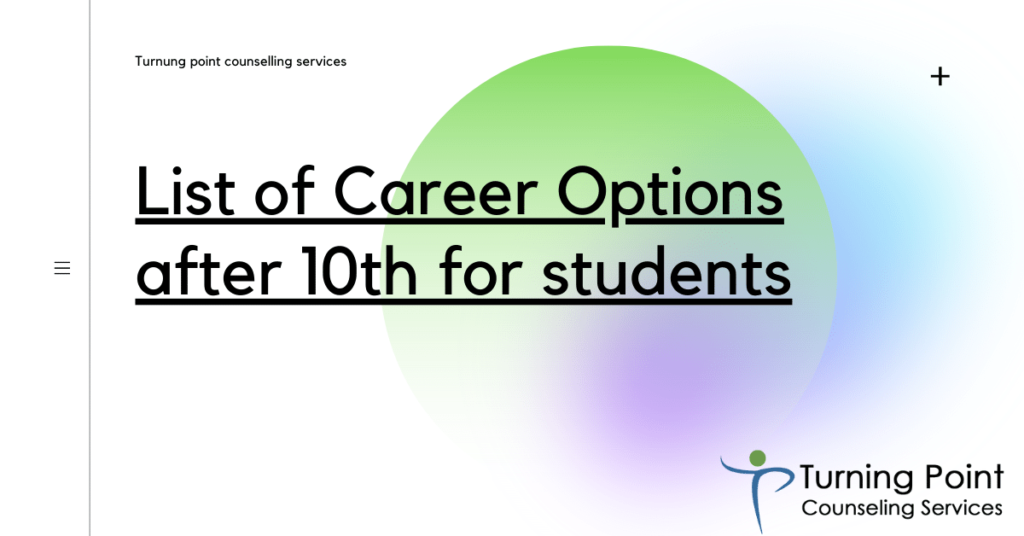 Arts, on the other hand, has a reputation of being considered a less rewarding career although that's not at all true. But the basis of the decision lacks thorough research and little to no consideration of the student's interests. Let's dive in further to explore the best career options after the 10th class for students.
There are ample opportunities for a student to choose from depending on their calibre and interests. Engineering, Medical and IT are some of the popular fields that one can tread into after the completion of their 10th class. The field enables one's intelligence and to be smarter with problem-solving abilities. Adding to the merits of choosing a science stream is that students can easily switch to Commerce or Arts later if they wish to discontinue.
Popular Career Options:
Bachelor of Dental Surgery
B. Sc in Advanced Zoology and Biotechnology
Bachelor of Physiotherapy
BE Mechanical Engineering
Bachelor of Design
If finances and economics fascinate you, then venturing into Commerce would probably be the best bet for you. The career choices that one gets to explore is vast. There are multiple sought after professional and creative courses such as Chartered Accountancy (CA) and Digital Marketing that will help you to utilize the skills you already possess. The Commerce stream is very promising in terms of compensation and also paving way for working opportunities abroad.
Popular Career Options:
Master of Business Administration
Chartered Accountancy
BA in Foreign Language Courses
Mass Communication Courses
Bachelor of Business Administration (Marketing, Aviation, Human Resources, etc.)
As already mentioned in the beginning, Arts/Humanities is considered to be of low profile but this field is defined with creativity. Do you think creativity overflows through you? People around you might find it weird at times, but if utilised properly at the right place you no longer would be bothered about what others think. Effective communication skills are a must if you are planning to pin yourself in here.
Popular Career Options:
Tourism Industry
Hotel Management
Bachelor of Arts (Psychology, Philosophy, Political Science, etc)
Advertising, Film Making, Animation, etc
Fashion Technology
Well, there's no denying that if there existed a shortcut to things that took longer than usual, we would love to try that out. A student who wants to skip this phase of their learning curve which demands 2 additional years, he/she can opt for diploma courses with a duration of 1, 2 and 3 years. Not only does this save them money, but also helps them get employed early in a particular job role.
Popular Career Options:
Diploma in Civil Engineering
Diploma in Mechanical Engineering
Diploma in Computer Engineering
Diploma in Aerospace Engineering
Diploma in Instrumentation Technology
ITI (Industrial Training Institute):
At times, a student might not be convinced about choosing from the other 3 streams for reasons known to them. If they want to get started with their career without pursuing further studies, this becomes easier for them to get enrolled in these training centres. One can opt for any short technical course they are interested in and get certified to be eligible to work in that particular industry earning a living for themselves.
Popular Career Options:
Private Sector Jobs
Hair and Skin Care
Electrician Engineering
Secretarial Practice
Commercial Art
This is the best we could possibly do to sum up the best career options to explore after completion of your 10th class. We hope that these points will help you make the right decision which is crucial for your career. Still not sure? We understand if you still have doubts that need to be clarified and we are sure we could be of some help. Turning Point Counseling Services adheres to tested assessment methods to taking into various parameters into consideration such as a student's personality, likes and dislikes, hobbies, etc. among several others. We assure you that you won't be disappointed with our Career Counseling Services. We wish you the best for your future!